Picking a color for the kitchen is not an easy task, especially if you want to stay away from the neutrals and to try something with a bit more personality. We've already seen a lot of great design ideas based around blue kitchen cabinets so let's switch colors and check out green now. All of these beautiful kitchens below make use of various shades of green in all sorts of interesting ways. Perhaps one of them will inspire you to try something similar. 
Multiple vibrant kitchen cabinet green colors
A bright shade of green can have a very refreshing effect on the kitchen. Whether you combine it white and other neutrals or with a few other accent colors that are just as vibrant, the result can be a very fresh and cheerful-looking decor. Here the kitchen features bright green, blue and red cabinets, all complementing each other in a cool way.
A traditional cabinet with green touch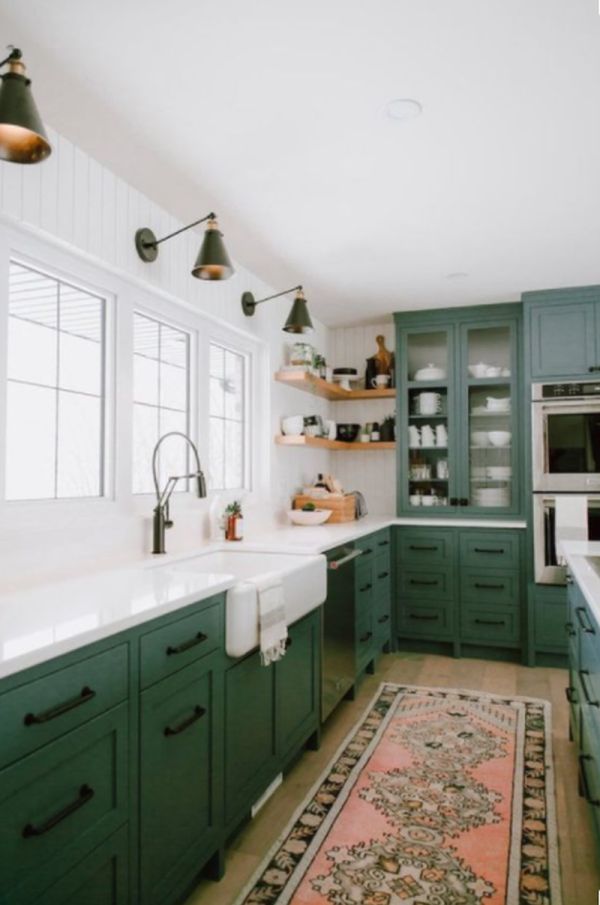 Darker shades of green look really beautiful in combination with white. The contrast is strong and clean and suits a lot of different styles. In a kitchen like this one adding a few wooden accents and texture can help to make the space feel homely and inviting. 
Warm green kitchen cabinets accent details
Here's another example of green kitchen cabinets paired with a beautiful wooden floor and white walls. This time we're looking at a dark emerald nuance which goes really well with the subtle copper accents and even with stainless steel which is often found in modern kitchens. 
A full wall of green
This kitchen has green cabinets from top to bottom and even the backsplash matches the furniture. The transition between the top and bottom cabinets is seamless because of that but also means there's no accent color to break up these sections. 
Dark accent colors
Green can also be combined with darker colors like brown or black and that can look quite elegant. In a kitchen like this one the result is a glamorous and retro-inspired design. That of course can be adapted to suit a variety of styles but we love the old-school vibe that these colors offer. 
Bold and uniform
How about a bright aquamarine sort of nuance, something to really make your kitchen stand out? Studio Victor Liberatore Interior Design went all out here, giving this stylish kitchen a uniform look. The marble backsplash and the countertops break up the color scheme but in a subtle way and the herringbone wooden floor is a perfect addition. 
Soft and soothing colors
Another beautiful idea is to opt for a faded green nuance like the one used here by studio Designs for Living. It gives this kitchen such a lovely vintage look. It's paired with black countertops, stainless steel appliances, a wooden floor and a white ceiling and the cabinets themselves stand out with their retro designs. Also, the island has a really interesting shape. 
A coordinated look
Vintage green is actually a very versatile color. It looks great here in combination with the darker wood tones and the warm and subtle lighting. All the cabinets have the same color, bringing the kitchen together and giving it a uniform look. 
Subdued nuances
Another way to make this sort of retro green kitchen cabinet idea work is by introducing warm neutrals like beige or natural wood tones. The transition between the colors is quite smooth and goes really well with both white and black which are wonderful options for the walls, ceiling, countertops and so on. 
An unexpected accent color
If you want to be a bit bold and give your kitchen even more character, how about introducing a special accent color such as lilac or violet for example. In combination with the mint green kitchen cabinets and bright lighting, it could make this space look like a refreshing spring garden. This combination by studio Designs for Living is one of our all-time favorites because of how refreshing and soothing it is. 
Clean contrasts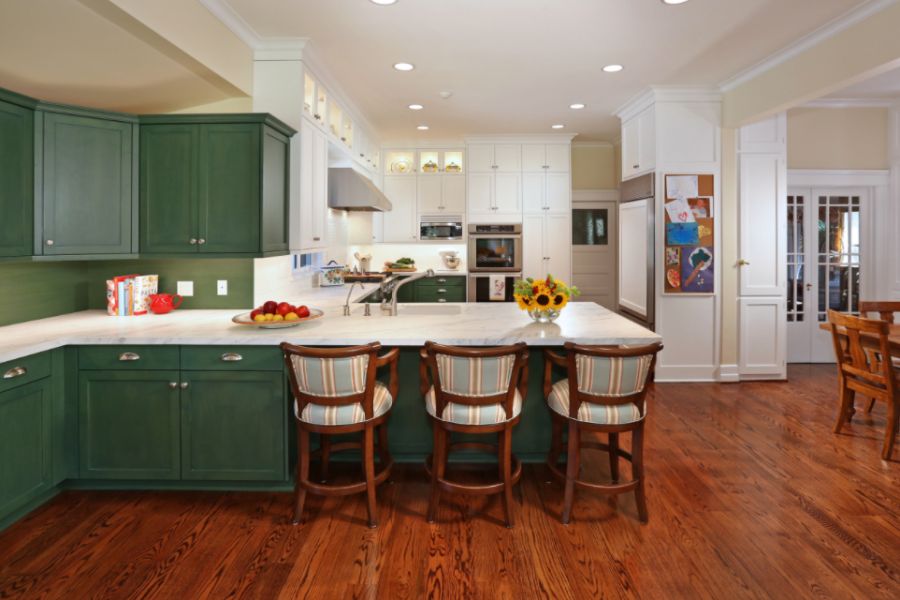 Using a distinct accent color for the kitchen can help it stand out in an open-plan combined area. In this stylish interior by Cynthia Bennett & Associates the green cabinets separate the kitchen from the dining and the living areas white the wooden floor makes the transition smooth and seamless. 
A unique color palette
Another cool idea is to draw inspiration from complementary colors but to ultimately create your own unique palette. For instance, blue and orange and red and green are complementary but this kitchen features a rather unique and unusual selection of tones based on these pairs. The white subway tiles and the neutral grays and blacks help this marvelous color scheme look even more amazing.
Pastel kitchen
Pastel green is quite rarely used in interior design and it often denotes a vintage or traditional style. It's a nice choice for the kitchen cabinetry because it maintains a bright and airy look but it also allows the space to look and feel more inviting compared to something very simple like white or beige.
Small but bold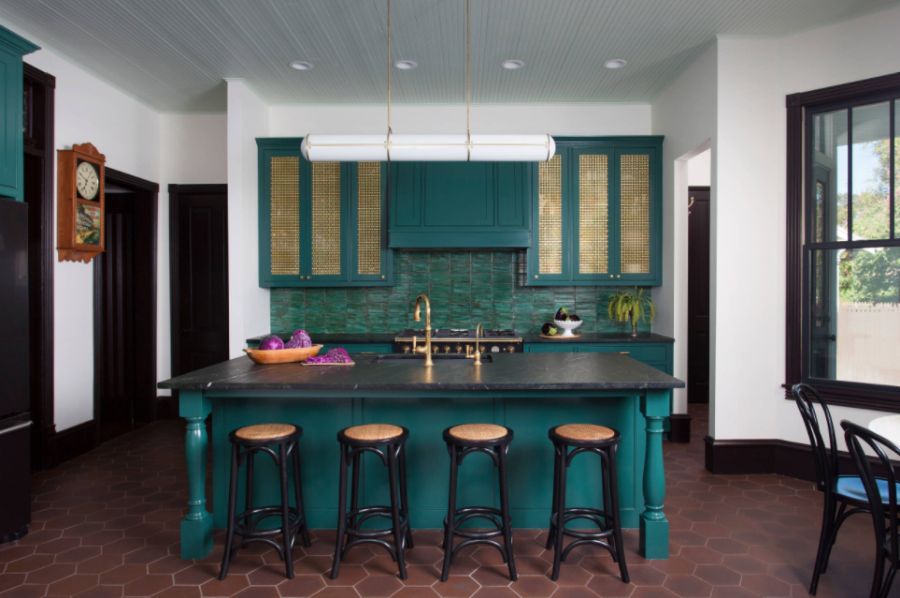 Play around with different shades of green or nuances inspired by this color if you want something a bit more spectacular. Darker nuances usually go well with accent colors such as black or dark brown but introducing a few lighter nuances like white, gold or beige is a good idea as well. Check out this beautiful design by studio Amity Worrel & Co. if you're in need of inspiration. 
Cool patterns
Even bold and fresh colors like green can sometimes look flat and boring if the decor lacks depth and character. Avoid that by adding little accent details or eye-catching prints and patterns. In the kitchen, the backsplash gives a perfect opportunity for using interesting tile patterns. The backsplash can act as a separator between that and the cabinets. 
The post Green Kitchen Cabinets Design That You Can Make Your Own appeared first on Home Decorating Trends – Homedit.