Every kitchen needs kitchen countertops. But with so many kitchen countertops options, it's hard to choose one. After choosing appliances and kitchen cabinets for the countertops to go on, you may be at a loss.
What kind of kitchen countertops options are available anyway? We're going to break those down and go over the pros, cons, and costs of each popular kitchen countertop so you can be closer to finding the right one for you. 
Types Of Countertops 
There are many types of kitchen countertops, but most of them are easy to cover with a few different categories. These are some of the most common materials used in making kitchen countertops options. 
Note: prices show a range. Some countertops may reach outside of the range for one reason or another. The range is simply a ballpark figure to help you compare the differences in prices. Shopping locally is recommended for the best price. 
Marble Countertops
Cost: $40 to $100 per square foot 
Common Color Options: Carrara, Calacatta, Statuario, Danby, Cultured, Makrana, Travertine, Pink
Strengths: elegant, unique patterns, heat resistant 
Weaknesses: not scratch proof, porous thus absorbs liquids 
Marble countertops are one of the most sought-after kitchen countertops options. It is a gorgeous option that is popular in bathrooms. It may need to be replaced every few years, but with the uniqueness of each slab, it's one of the highest-end countertops. 
Marble countertops are no doubt one of the most beautiful countertops available. They usually come from the mountains, giving you a slice of nature in your kitchen. Since no two slabs are alike, you can know that your countertop is unlike any other. 
Stainless Steel Countertops
Cost: $80 to $225 per square foot
Color Options: very few, but there are other metal countertop options like copper or pewter 
Strengths: easy to clean, safe, cut resistant, heat resistant, durable 
Weaknesses: not versatile, noisy, can damage utensils and dull knives 
Stainless steel countertops are a fun option for an industrial look. However, you risk having a commercial-look if you're not careful. If this is a look that you want then you won't find a better kitchen countertops option. 
Since stainless steel countertops are quite expensive, it isn't recommended to get them unless you love the look. They will last a lifetime, but you should love your kitchen, so only get them if you love them. 
Limestone Countertops 
Cost: $70 to $200 per square foot 
Color Options: most neutral tones of lighter colors
Strengths: lightweight, looks weathered, can be cheaper than other natural countertops 
Weaknesses: porous, not scratch resistant, need a lot of maintenance 
Limestone countertops aren't a popular kitchen countertop, but they are unique. Each piece offers a porous and textured look that will make your countertops look like they were cut from ancient stone. But if you have them, you will work for them. 
Limestone usually requires a special cleaner. So you'll also have to invest in limestone cleaner and use it every day. Many people find that limestone isn't worth it because of the maintenance needed. 
Granite Countertops
Cost: $40 to $100 per square foot 
Color Options: neutrals, red, blue, and green
Strengths: great value, renewable, long-lasting, scratch and heat resistant, 
Weaknesses: should be sealed, hard to DIY
Granite countertops are one of the most popular high-end countertop options for the kitchen. They are available at a great price. While they are more expensive than "cheap" countertops, they offer one of the best values. 
Most new homes install granite to add resale value without adding a lot of money to the remodeling or construction costs. Look for it on sale to add a lot more value, especially if the home is going to be sold. 
Quartz Countertops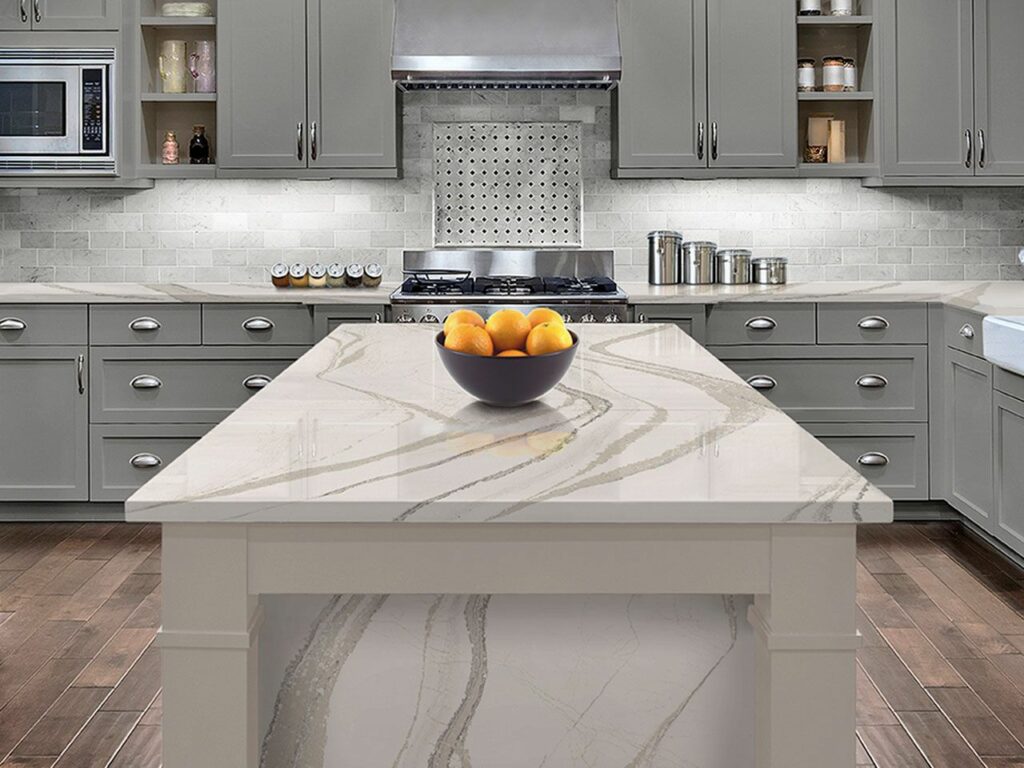 Cost: $50 and $150 per square foot
Color Options: almost any color
Strengths: generally durable, cheaper than other stones, versatile since not all natural
Weaknesses: can chip, can discolor, not heatproof, not completely scratchproof
Quartz countertops are another great option. It can be quite a bit cheaper than other similar options. It also comes in more colors considering it can be mixed with other materials. Most quartz is manufactured. 
What most people don't know is that quartz is actually more durable than granite. It is around the same price in most cases but it is made to withstand most kitchen wear and tear. It also has a texture somewhere between marble and granite. 
Lava Stone Countertops
Cost: $250 to $350 per square foot
Color Options: any color, any shade
Strengths: durable, nonporous, heat resistant, can match any design style, no maintenance needed 
Weaknesses: expensive
Lava stone countertops are relatively new. Though lava stone itself is ancient and found in volcanoes, the use of it in kitchen countertops is new. With so many pros you may wonder why it's not more popular.
The truth is that it is the most expensive countertop you can buy. It looks amazing and can last through anything. Buu since it's a rare resource that is difficult to harvest, it is very expensive, so hardly anyone can afford it. 
Solid Surface Countertops 
Cost: $60 to $80 per square foot
Color Options: any color
Strengths: sanitary, low maintenance, many options, 
Weaknesses: unnatural, not heat resistant, not scratch resistant 
You may be wondering what a solid surface countertop is. After all, stone is a solid surface. But a solid surface countertop is actually a manufactured countertop made from resins, plastics, and dyes. 
Because they are man-made they can be made into any color and a variety of textures. That said, they aren't natural so if you want a natural countertop, look elsewhere. But if you want a cheaper version of granite, then it's perfect. 
Wood Countertops
Cost: $20 to $70 per square foot
Color Options: wood can be stained just about any color, but most wood countertops are wood-colored 
Strengths: versatile, can be stained, natural, eco-friendly, unique 
Weaknesses: needs a strong seal, not heat or scratch resistant at all 
Wood countertops are more popular than you'd think. They are one of the oldest kitchen countertops options and are still valid today. You can find wood islands and butcher blocks readily, but regular wood countertops are available too. 
Keep in mind that wood can scratch, burn, and isn't waterproof. That said, it can be sealed to be more durable. But it will also need to be replaced every few years if you don't like the scratched, weathered look on your  countertops. 
Concrete Countertops
Cost: $65 to $135 per square foot 
Color Options: primarily greys but can be stained 
Strengths: can be customized, can be DIY, durable, heat resistant, nearly impossible to scratch 
Weaknesses: needs a lot of maintenance, need experience to DIY
Concrete countertops are a unique option that is beginning to trend again. They can be poured by a professional or done on your own. They offer a look between industrial and rustic, so they blend in with any decor. 
If you have any experience doing this sort of construction, then making your own concrete countertops isn't difficult. You need to create a mold and make sure the surface is smooth when you finish. 
Most importantly, make sure the concrete isn't made with glass or anything that will come off into food you prepare. Check with the supplier before pouring the concrete to make sure it's safe for your purpose. 
Tile Countertops 
Cost: $25 to $120 per square foot
Color Options:  any color or pattern 
Strengths: heat resistant, versatile, many materials
Weaknesses: can crack, difficult to install
Tile countertops went through a stage of being one of the least popular kitchen countertops options. But over the last few years, they have grown in popularity due to the versatility and price range. 
You can use almost any type of tile on your countertops. If you shop around much, you can find an amazing deal. Or, you can find exactly what you're looking for as you can mix and match to find the perfect dream countertop pattern. 
Glass Countertops
Cost: $65 to $140 per square foot
Color Options: generally blue or green but can be customized  
Strengths: eco-friendly, sleek
Weaknesses: hard to keep clean, can crack and break
Glass countertops come in many varieties. They are usually made from recycled materials but can be purchased in different types of slabs. Some are more expensive than marble or granite, while others can be found at amazing prices. 
If you want glass countertops right away, expect to pay quite a bit. Glass isn't exactly cheap, which is why windows and glass doors are expensive. However, you can get them at any time, they just might not be what you're looking for. 
Laminate Countertops 
Cost: $10 to$80 per square foot 
Color Options: any color 
Strengths: cheap, easy to replace, durable for the cost
Weaknesses: looks cheaper than others, can peel and be pierced 
Laminate is by far the cheapest kitchen countertops option. If you install it yourself, which is quite easy, you can save a lot of money and pay next to nothing for your countertops. They are made to mimic granite but look of lower quality. 
Laminate is actually one of the most popular countertops. It is used in trailer houses, RVs, and tiny homes due to the affordability and lightweightness. It can even fold up like a murphy bed without becoming a danger. 
Ending Notes
Finding countertops is like finding a haircut to suit you. Only you can make the final decision. You can always change your mind alter, but you may have to wait and pay quite a bit more. So take your time beforehand and find that inspiration. 
The post Kitchen Countertop Options For The Perfect Kitchen appeared first on Home Decorating Trends – Homedit.